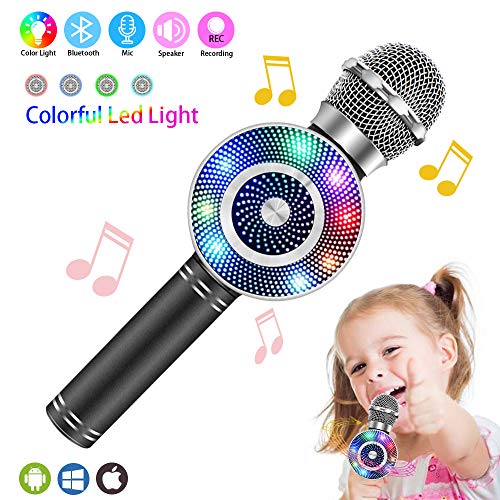 Wireless Karaoke Microphone, Handheld Bluetooth Microphone with Speaker and light Echo Mic Portable Karaoke Player
Syncwire
What we're looking for
Anyone interested
Product details
Wireless Bluetooth Karaoke Microphone Support External TF Card and USB port can play USB music directly. It allows you to switch freely to the mode you want.No matter you are at home, hiking or party, day or night, you can sing anywhere and anytime.It is also a perfect gift for you and your friends, kids, families.Bluetooth Connecting 1. Long press the power button for about 2 second and release, when you hear a short music sound it means it's on. 2. Turn on your bluetooth on your phone and search for "WS-669" then connect with it,there's a prompt tone means you connected successfully.Specification: Use:Karaoke Microphone/recorder/Bluetooth speaker/loudspeaker Wireless: Bluetooth LED: multi-color LED lighting effects Reverb Mode: Sound effect reverberation Output: 5W * 2(speakers) Frequency Range: 100Hz-10KHz SPL: >115dB 1KHz THD<1% Battery type: Built in lithium ion battery Battery capacity: 2200mAh Charging Time: 2-4 hour Using Time: 5-8 hours Charge voltage: DV 5V Temperature: -10°C-45°C Package List: 1 * Karaoke machine Player 1 * USB Cable 1 * Manual Our Policy:We offer returns and refunds within 2 months, one-year warranty and Permanent Friendly Customer Service.
Product link
https://www.rebatest.com/Product/ProductDetails/31920.html?me=1&rebatestid=5573
Want to enter this campaign?
Offered by Wireless Karaoke Microphone, Handheld Bluetooth Microphone with Speaker and light Echo Mic Portable Karaoke Player
Deliverable
Instagrammers will post to their feed:
1 time
Usernames to @mention:
@rebatest_official
Hashtags to #mention:
N/A
Accounts to tag in Photo:
@rebatest_official
Notes
N/A