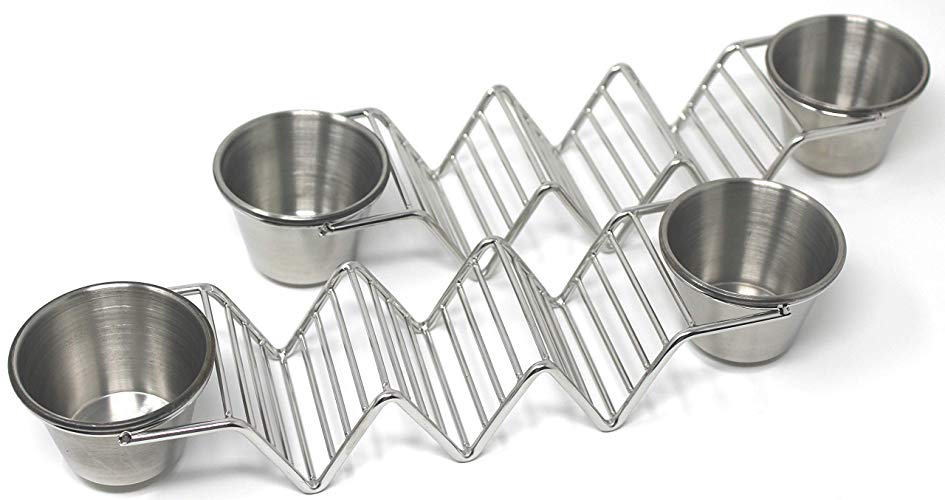 Premium Taco Holder Stand Rack 2 Pack Bundle with 4 Sauce Cups, Stainless Steel Stackable Taco Stand for Soft
Syncwire
What we're looking for
Anyone interested
Product details
Convenient&Presentable: Taco stand is designed to keep your tacos upright. They work for both soft and hard shell tacos. Each taco rack holds 2 or 3 shell tacos upright for easy filling and serving, so you can fill them in a few minutes and keep them on the plate. Dishwasher, Oven, and Grill Safe: Our taco holder set stacks neatly and wash easily in the dishwasher — no rusting.then stack them in a drawer, cupboard or hang 'em on a hook. Storage couldn't be simpler.this taco holders are safe for oven, grill and dishwasher. Food Grade Stainless Steel: Crafted with food-grade stainless steel.It is safe to use at home,in restaurants, and other professional food industry environments.We test all of our products to ensure they meet or exceed current safety standards. Multiple Uses and Utility USES: These taco holders look beautiful in any kitchen.These taco holders works great for holding soft shell, hard shell, burritos, sandwiches, hot dog buns and more. Rack each taco shells so they don't fall or break as you fill it! Create less mess to keep your counters clean. Money Back Guarantee: We think you'll love this taco holder set, If you're not happy with your purchase, simply send them back for a no-questions asked, hassle-free refund.
Product link
https://www.rebatest.com/Product/ProductDetails/22381.html?melody=1&rebatestid=2116
Want to enter this campaign?
Offered by Premium Taco Holder Stand Rack 2 Pack Bundle with 4 Sauce Cups, Stainless Steel Stackable Taco Stand for Soft
Deliverable
Instagrammers will post to their feed:
1 time
Usernames to @mention:
@rebatest_official
Hashtags to #mention:
N/A
Accounts to tag in Photo:
@rebatest_official
Notes
N/A