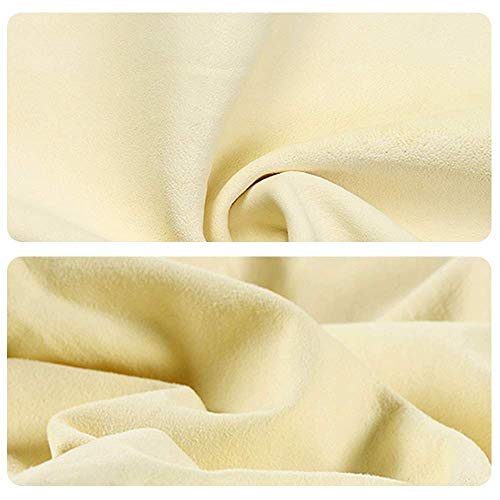 Nurkeen Chamois, Soft Chamois Cloth for Car, the Absorber Drying Car Drying Towel , Environmental and Durable Car Chamois
JOVS
What we're looking for
Anyone interested
Product details
Perfect Absorption - Our chamois provides the best possible liquid absorption. It's Water absorption is five times more than ordinary towels, wipe your wet hair with it and it will soon dry, fast and easy absorption for any liquid. Environmental & Durability - Our chamois cloth for car is made of PVA & MIC material, it survives the thousands of drying uses, highly durable. It is easy to wring it out, machine washable- reuse 100's of times. Soft & Protected - The car chamois is very soft and good extensibility, won't scratch and safe to use on all finishes, protect your car and other cleaning objects. Easy to Store - The synthetic chamois is easy to wring out and store, do not forget to keep the shammy cloth in a tube and always a little bit wet. Versatile - Our car drying towel has hundreds of drying uses, like car cleaning, screen, window, glasses cleaning, furniture caring, kitchen and bathroom to make them sparkle. Throw away those abrasive synthetic petrolium derived towels and treat yourself to a renewable genuine chamois.
Product link
https://www.rebatest.com/Product/ProductDetails/22900.html?melody=1&rebatestid=2127
Want to enter this campaign?
Offered by Nurkeen Chamois, Soft Chamois Cloth for Car, the Absorber Drying Car Drying Towel , Environmental and Durable Car Chamois
Deliverable
Instagrammers will post to their feed:
1 time
Usernames to @mention:
@rebatest_official
Hashtags to #mention:
N/A
Accounts to tag in Photo:
@rebatest_official
Notes
N/A