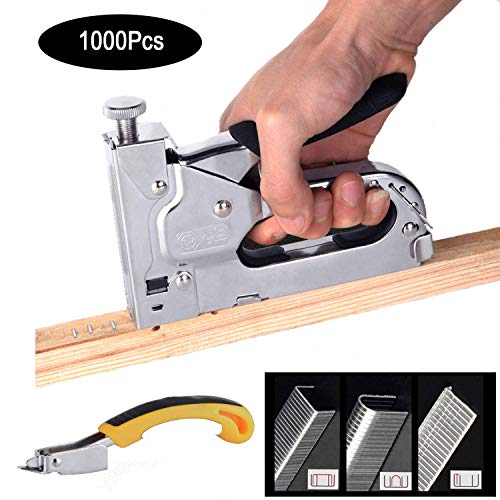 3-in-1 Staple Gun with Remover,Nail Puller, Upholstery Stapler, Heavy Duty Tacker Stainless Steel Brad Nail Gun
JOVS
What we're looking for
anyone interested
Product details
IDEAL FOR REPAIR FASTENING -- Special binding groove allows easily insertion of Door-type, U-shaped, T-type three-in-one manual staples are ideal for repair, decoration and fastening to meet your various tacking needs. SAVE WORKING TIME -- Anti-jam mechanism saves time on the job, Adopting the principle of spring spring-back impact, it doesn't need electricity or gas as it's power source.; It adopts 5.86mm large all-steel fixed column, high-strength stainless steel body, surface plating treatment, durable and not easy to damage, no rust. INCLUDED 3 DIFFERENT STAPLES -- Comes with 400pcs Door-type, 200pcs U-type, 400pcs T-type staples to meet your different needs. (Dimensions are 4- 14mm, 10mm and 10/14mm) Ideal for repairing, decoration and fastening. EASILY AND SECURELY -- According to the ergonomic design, the hand feels more fit, more comfortable and non-slip, and more labor-saving. Use the depth adjustment knob on the top of the nail gun to fit the thickness of the material you are using, which will make your upholstery work easier. 100% LIFETIME GUARANTEE -- Unlike other products, we believe in the quality of our products. if you are not 100% satisfied just contact us to arrange a return and we will offer you a full refund or exchange!No risk ,add to cart now.
Product link
https://www.rebatest.com/Product/ProductDetails/30335.html?melody=1&rebatestid=2371
Want to enter this campaign?
Offered by 3-in-1 Staple Gun with Remover,Nail Puller, Upholstery Stapler, Heavy Duty Tacker Stainless Steel Brad Nail Gun
Deliverable
Instagrammers will post to their feed:
1 time
Usernames to @mention:
@rebatest_official
Hashtags to #mention:
N/A
Accounts to tag in Photo:
@rebatest_official
Notes
N/A